Butter Making
Come and see how simple it is to make butter, then taste if and take some back to your camp.While making the butter we will talk about period method of making butter and times of year it was made.
Instructor – Aibhilin fra Skye
Length – 1 hr
Cost –
Class Max –
Children ages 3 – 10 must be accompanied by a parent in order to participate
Hand Dipped Candles
Learn how to make your own candles.  We will talk about making rush lights and tallow candles.  We will burn some so you can see the amount of light they can give. We however will make dip candles out of beeswax or parafin, you will have a pair of candles to take home.
Instructor – Aibhilin fra Skye
length – 2 hr
Cost –
Class Max – 10
Children 3 – 10 must be accompanied by a parent by a parent in order to participate.
Repoussée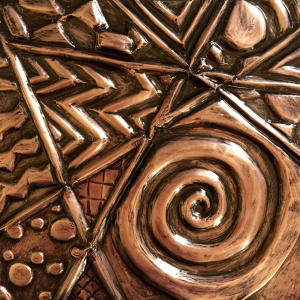 This workshop will introduce participants to Repoussé, a metaworking technique where malleable metal is shaped from both the front and reverse to create a design in low relief. Images will be provided, participants are also welcome to bring their own to use.
Instructor – Sciath
Length – 2 hrs
Cost – $10
Class Max – 7
Minimum participant age is 16
 Rounds around the campfire
Sit around the campfire and learn some fun mostly 16th century songs.
Instructor – Alienor la fileuse
Length – 1 hr
No class limit or fee; children are welcome to attend with their parents
Cold Enamel
Working with 'Faux' or 'Cold' Enamel – this class will allow those interested in two-part coloured resin for their jewelry work, to have hands on experience with it. A discussion on the ways in which the resin can be used and the different hardeners, a demonstration of mixing the two components, and then participants will use the mixed resin to fill in a pre-made brass piece.
The resin works like a two-part enamel and it is recommended that you wear garb you don't care about possibly getting the resin on and/or an apron.
Instructor – Cesare Ambrigino di Salvazzi
Length – 2 hours
Cost – none
Class Max – 8
Age limited to 16 and older
Introduction to block printing on fabric: techniques
This class will introduce carving linoleum into stamps that can be used to stamp fabric. Materials supplied will include a 4'x6′ piece of linoleum, carving tools, and choice of paint, all of which are kept for future projects.
Please bring an idea or pattern of the pattern you want to make (a mirror image if orientation matters) plus some scrap fabric to test your stamp on. Time has only been allotted to do sampling of printing and not to create yardage.
Instructor – Rylyn Buchanan
Length – 3 hours
Cost – $30
Class Max – 6
Age limited to 14 and older
Introduction to Naalbinding
Come and learn the Oslo stitch!  We will learn the basics as well as how to naalbind a chain and how to make that chain into a project of your choice.
I will have some materials available, if you have any of your own please bring along.
Instructor – Wulfwynne of Blackwood
Length – 1 hour
Cost- donation
Class Max – 6
Class limited to ages 10 and older.
Egg Tempera Painting
A beginners hands on class on Egg Tempera painting with some basic historical background on its usage.    In this class participants will learn how they can combine egg yolk, powdered pigment, and water to create paint.  We will play with making paint and talk about how it's a unique medium that dates back to 4th c. AD.  Particiapnts to not need any experience with painting.  The only scary part is breaking an egg.
Instructor – Lady Christiana de Mundegumri
Length – 1 hr
Class Max – 10
Cost – none
Children 13 and older can participate if accompanied by a parent.
Tablet Weaving for Beginners
Come and see how fun it can be to tablet weave!  You don't need any supplies to come and try it out, I will have cards, shuttles and yarn/cotton for you to use.  If you have your own bring them along!  If you have a loom bring it along too if not no worries I can show you the very period technique of backstrap weaving, or you warp something else – a chair, a large picture frame, scroll frame. You will learn the fast warp method and start a simple pattern.
Instructor – Fraye Blackwood
Length – 1 hr
Cost – Donation for materials
Class Max – 7
Enameling open"studio" (tent)
All day Saturday and Sunday (except during lunch)  3-4 workstations will be set up and may be booked by appointment or used as they come available.
Requirements: must demonstrate safe handling of tools and materials within the studio and be over 14 years old.
You are required to wear fire safe garb.
I will supply copper disks, cloisonne wire, etchants, scrap and other miscellaneous items to enamel upon.  There *may* be a group project you will be encouraged to fire an extra piece for.
I will also supply a variety of enamels and the torches and gear required to fire the enamels.
There will be a leather apron and welding glasses available for those actively using the torch.
Donations of time and small coinage to offset materials is appreciated, but not mandatory.
Instructor – Orla
Length – as required for project
Cost – donation    $ as well as time acceptable
Class Max – variable
Limited to ages over 14.
Renaissance tailoring techniques,
An overview of renaissance tailoring techniquesand how period sewing techniques differ from modern dressmaking methods. The class will be mostly theory, but students will be able to try their hand at pad-stitching a collar. Some basic knowledge of sewing will be assumed.
Instructor – Monna Laura Battista
Length – 2 hours
Cost – none
Coronets and Titles
Learn about the different coronets that people where, what they mean and the titles associated with each of them.
Instructor – Baroness Christiana
Length – 1 hour
Cost – none
Kumihimo
Kumihimo is a Japanese braiding technique which includes simple to very complex braids.  This class will cover the basic braiding technique for beginners and can accommodate those with experience who wish to expand their knowledge and skills.
Instructor – Meijin Gwendyon Casgudcath
Length – 1 hour
Cost – $5
Class Max- 10
Children under the age of 12 must be accompanied by a parent
Save
Save
Save
Save
Save
Save
Save
Save
Save
Save
Save
Save
Save
Save
Save
Save
Save
Save
Save
Save
Save
Save
Save
Save
Save
Save
Save