Butter Making  
Cancelled
Come and see how simple it is to make butter, then taste if and take some back to your camp.While making the butter we will talk about period method of making butter and times of year it was made.
Instructor – Aibhilin fra Skye
Length – 1 hr
Cost –
Class Max –
Children ages 3 – 10 must be accompanied by a parent in order to participate
Hand Dipped Candles
Learn how to make your own candles.  We will talk about making rush lights and tallow candles.  We will burn some so you can see the amount of light they can give. We however will make dip candles out of beeswax or parafin, you will have a pair of candles to take home.
Instructor – Aibhilin fra Skye
length – 2 hr
Cost –
Class Max – 10
Children 3 – 10 must be accompanied by a parent by a parent in order to participate.
Period Lighting
Come test a few period light sources and we will measure how much light each will produce using a modern light meter.
Instructor – Aibhilin fra Skye
length – 1 hr
Cost –
Class Max-
as this is an evening class, children under the age of 14 must be accompanied by a parent
Repoussée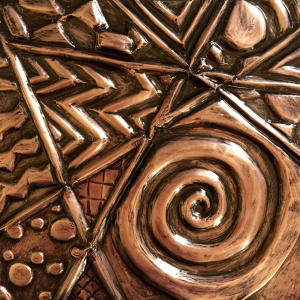 This workshop will introduce participants to Repoussé, a metaworking technique where malleable metal is shaped from both the front and reverse to create a design in low relief. Images will be provided, participants are also welcome to bring their own to use.
Instructor – Sciath
Length – 2 hrs
Cost – $10
Class Max – 7
Minimum participant age is 16
 Rounds around the campfire
Sit around the campfire and learn some fun mostly 16th century songs.
Instructor – Alienor la fileuse
Length – 1 hr
No class limit or fee; children are welcome to attend with their parents
Cold Enamel
Working with 'Faux' or 'Cold' Enamel – this class will allow those interested in two-part coloured resin for their jewelry work, to have hands on experience with it. A discussion on the ways in which the resin can be used and the different hardeners, a demonstration of mixing the two components, and then participants will use the mixed resin to fill in a pre-made brass piece.
The resin works like a two-part enamel and it is recommended that you wear garb you don't care about possibly getting the resin on and/or an apron.
Instructor – Cesare Ambrigino di Salvazzi
Length – 2 hours
Cost – none
Class Max – 8
Age limited to 16 and older
Introduction to block printing on fabric: techniques
This class will introduce carving linoleum into stamps that can be used to stamp fabric. Materials supplied will include a 4'x6′ piece of linoleum, carving tools, and choice of paint, all of which are kept for future projects.
Please bring an idea or pattern of the pattern you want to make (a mirror image if orientation matters) plus some scrap fabric to test your stamp on. Time has only been allotted to do sampling of printing and not to create yardage.
Instructor – Rylyn Buchanan
Length – 3 hours
Cost – $30
Class Max – 6
Age limited to 14 and older
Introduction to Naalbinding
Come and learn the Oslo stitch!  We will learn the basics as well as how to naalbind a chain and how to make that chain into a project of your choice.
I will have some materials available, if you have any of your own please bring along.
Instructor – Wulfwynne of Blackwood
Length – 1 hour
Cost- donation
Class Max – 6
Class limited to ages 10 and older.
Egg Tempera Painting
A beginners hands on class on Egg Tempera painting with some basic historical background on its usage.    In this class participants will learn how they can combine egg yolk, powdered pigment, and water to create paint.  We will play with making paint and talk about how it's a unique medium that dates back to 4th c. AD.  Particiapnts to not need any experience with painting.  The only scary part is breaking an egg.
Instructor – Lady Christiana de Mundegumri
Length – 1 hr
Class Max – 10
Cost – none
Children 13 and older can participate if accompanied by a parent.
Tablet Weaving for Beginners
Come and see how fun it can be to tablet weave!  You don't need any supplies to come and try it out, I will have cards, shuttles and yarn/cotton for you to use.  If you have your own bring them along!  If you have a loom bring it along too if not no worries I can show you the very period technique of backstrap weaving, or you warp something else – a chair, a large picture frame, scroll frame. You will learn the fast warp method and start a simple pattern.
Instructor – Fraye Blackwood
Length – 1 hr
Cost – Donation for materials
Class Max – 7
Enameling open"studio" (tent)
All day Saturday and Sunday (except during lunch)  3-4 workstations will be set up and may be booked by appointment or used as they come available.
Requirements: must demonstrate safe handling of tools and materials within the studio and be over 14 years old.
You are required to wear fire safe garb.
I will supply copper disks, cloisonne wire, etchants, scrap and other miscellaneous items to enamel upon.  There *may* be a group project you will be encouraged to fire an extra piece for.
I will also supply a variety of enamels and the torches and gear required to fire the enamels.
There will be a leather apron and welding glasses available for those actively using the torch.
Donations of time and small coinage to offset materials is appreciated, but not mandatory.
Instructor – Orla
Length – as required for project
Cost – donation    $ as well as time acceptable
Class Max – variable
Limited to ages over 14.
Renaissance tailoring techniques,
An overview of renaissance tailoring techniquesand how period sewing techniques differ from modern dressmaking methods. The class will be mostly theory, but students will be able to try their hand at pad-stitching a collar. Some basic knowledge of sewing will be assumed.
Instructor – Monna Laura Battista
Length – 2 hours
Cost – none
Coronets and Titles
Learn about the different coronets that people where, what they mean and the titles associated with each of them.
Instructor – Baroness Christiana
Length – 1 hour
Cost – none
Kumihimo
Kumihimo is a Japanese braiding technique which includes simple to very complex braids.  This class will cover the basic braiding technique for beginners and can accommodate those with experience who wish to expand their knowledge and skills.
Instructor – Meijin Gwendyon Casgudcath
Length – 1 hour
Cost – $5
Class Max- 10
Children under the age of 12 must be accompanied by a parent
Advanced Kumihimo
Intermediate/ Advanced Kumihimo
A look at kumihimo on the marudai.  This is a student interest driven class.  I want to expand your knowledge and skills.  Some potential topics are fibres, # of tama, patterns, etc.  Please let me know if you are planning on attending and if there are any specific topics you'd like me to cover so I can make sure to bring the necessary supplies.
A marudai is recommended.  I will have a couple that could be borrowed for the class.  Please contact me prior to the event.
Length: 2 hours
Cost: Donation if my supplies used
Class Max: N/A
Iron Smelt – Build and Prep Day
Saturday is all about preparing the materials and building the
smelting furnace.  There is charcoal to prepare, ore to crush, and
best of all…. Cobb to make.  Mixing water, sand, clay, and dry horse
manure and then building the actual smelter.  This will be a long,
dirty day – but you'll learn all the details that go into a good
furnace. We have room to shift people in and out as other classes
demand your attention.  Come have fun with us.
Instructor – Ragnarr Thorbergsson, Sylard of Eagleshaven
Length – 6 hr
Cost – Attendees will split half of the materials cost ($150)
Class Max – 6
Children ages 10 – 14 must be accompanied by a parent in order to participate
Iron Smelt – Let it BURN!!!!!
Sunday is all about the fire.  We begin early with the pre-heat,
rough-burn, and secret rituals.Then the day is a blur of charcoal,
ore, and the burning pain of yet another shift on the bellows.
Participants will take turns recording the experiment, pumping the
bellows, loading ore and charcoal.  Throughout we will be watching the
progress of the smelt. Participants MUST wear natural fibres
(polyester and nylon stick when they burn) and solid closed toe shoes
with good treads.  Safety first – safety glasses provided. Hopefully
the end of a LONG day will wind up with an iron bloom being pulled –
and hammered into a billet. The finished billet will be split between
participants!
Instructor – Ragnarr Thorbergsson, Sylard of Eagleshaven
Length – 8 + hr
Cost – Attendees will split the other half of the materials cost ($150)
Class Max – 6
Children under 16 can only watch from a distance
 Norse Jewellery   Cancelled

This class will be about Norse stamp-pattern silver jewellery. Participants will learn and discuss various topics regarding this unique form of jewellery found in abundance in Norse-era silver hoards. Various well documented silver hoards such as the Cuerdale Hoard, the Huxley Hoard, the Vale of York Hoard, the Harrowgate Hoard, the Wieringen Hoard and others will be examined with special attention given to the styles, motifs and patterns used in these extant examples of stamped jewellery. We will also discuss the importance of silver as a trade commodity in the Norse-era.
Type: Discussion
Time: 1 hour
Speaker: Sam Falzone
Cost: none
 Metal Stamping  Cancelled

This class is about metal stamping – particularly in respect to Norse stamped jewelry.
The class will look at some of the motifs used in historical artifacts, the stamps used to make them and the process of making this style of jewellery. Participants will then have an opportunity to make their own stamped bracelet or Thor's hammer using copper sheet. Tools and materials will be provided – participants are not required to bring their own safety glasses unless personal safety glasses are preferred. Please wear natural fibre clothing (i.e. cottons, wool, etc.) as a propane torch will be used to anneal the projects. Participants are warned that this class will involve working with potentially high temperature metal.
Type: Hands On Workshop
Time: 2 hours
Speaker: Sam Falzone
Cost: $10.00 (hands on participants only)
Participants: 4 (hands on) + observers
A Novice Look at the Runes and How to Write with Them
An introductory look at the Younger Futhark, and how to write English words, and sentences with runes. A brief history of the runes and their development will also be reviewed. (This is the same class as FOOls IX)
Instructor -Lidr Lang-Akason
Class length – 2 hours
Cost – $2 for handout
Class Max – 12
Seiðr – The Oracle in Norse Times
This interactive demonstration will recreate the process of seiðr , or oracular trance. Loosely based on the example given in Erik the Red's Saga, a small group will be led to the "Oracle's hut" in the forest. Perhaps if she is in a good mood, participants will be able to ask a question of her.
Things to note:
This will be taking place in the back forest trails, participants will be walking a distance.
Wear appropriate footwear, bugspray, bring something to sit on, NO FOOD please.
Instructor -Lidr Lang-Akason
Class length – 1 hour
Class Max – 9   Must be 18 or older, no exceptions
History in the Baking: Bread in the Middle Ages
Learn the tips and tricks for making artisan sourdough bread the (almost) medieval way!
A fun, general discussion about the history of medieval bread making, sourdough cultures, and a hands-on lesson on how to make your own "mother sour" starter.  Special recipe handouts and a take-home batch of sourdough starter culture for each participant.  Fate willing, there may even be some sample loaves made with my own batch of cultured mother sour for tasting!
To take home your own "mother sour" culture, you must bring the following:
One (1) clean wooden mixing spoon
One (1) clean and sturdy container with lid (can be a large mason jar, crockery, glass or plastic container)
Pen and paper for notes (optional)
Gluten alert for this class
Instructor – Lady Merydyth Llwellyn
Class length – 1 hr
Cost – donation
Class Max – 10 inc. culture , +5 more for just discussion and handouts
Age limited to 10 and older
Lets Get Warped
This class is to get fast warped and ready for the advanced Tablet Weaving class, on Brocading. If you know what you need to do and have your own supplies, there is no need to come to this class. If you have questions but know how to fast warp please feel free to message me.
Inkle looms work as can anything else really, but if you want to keep working on it later you might want to bring some sort of loom to keep your tension even. Again ask ahead of time if you are unsure
Instructor – Yvette
Class length -2 Hours
Class fee- $5
No limit
Lets get Brocading
Want to move to something more then 4 forward 4 back. Master Rufus loves to see lots of brocade. This is an easy to learn technique that makes lovely trim but is a bit slower going.
Have your warp ready to go and lets brocade.
See Part #1 for information on what you need.
Or
Class length – 2 hours
Class fee – none
no limit
Making Organic and Inorganic Period Pigments
In this hands-on class we will work together to make a variety of pigments for painting using natural plant and mineral sources. The multiple techniques we review should help you to move forward in creating your own pigments using the materials around you. We will not work with overtly toxic pigments in this class, although we will work with some that require moderate safety precautions. Be prepared to get involved in all stages of the pigment-making process. Students who are at FOOL for both days will be able to take some pigment or paint samples home. You many wish to take notes.
Class length: 4 hours
Instructor: Merewen de Sweynesheie
Class limit: 8 participants, adults only
Class fee: $10
How to ID Fabric in the Wild
Join us as we discuss fabric identification by burning, sight, touch, smell, and more! Hands on. You should leave with a better understanding of how to walk into a fabric or thrift shop and know what you're buying, even if the tag is wrong. If you are unable to register, you are welcome to sit in, though there may not be samplers and handouts available.
Class length: 1.5 hours
Instructors: Merewen de Sweynesheie and Ævlyn of the Hedge
Class limit: 15 participants
Class fee: $1
Choral Workshop – Drinking Songs edition
Like to sing? Curious about pre-17thC choral music? Heard the Caldrithig Choir and want to try it for yourself? This is your chance! I'll bring the music, you bring your voice, you'll be surprised how quickly it all comes together. This session will focus on historic drinking songs.
Instructor – Marie l'Englois
Class length – 2 hrs
Size limit – none
Cost – optional donation for printing costs
Managing Stage Fright
  Do you love the bardic arts? Want to perform stories, songs, or poems, but nerves are getting in the way? Performers of all experience levels are invited to join this casual roundtable discussion on managing stage fright, to share tips and tricks from multiple perspectives. Experienced performers, success stories are welcome, as are tales of things you still struggle with. Newcomers, bring your biggest fears, we'll help you identify some first steps in moving past them.
Facilitators: Emer and Marie
Length: 1 hour
Size limit: none
Cost: none
 Introductory Latin – Nouns
 Come learn Latin, the way school children learned it in the Renaissance (or, at least, as close as we can comfortably manage).  We will be tackling Donatus' Ars Minor, with examples and practice time.  This is a language, folks, so we're not going to get extraordinarily far in one class – but we'll do what we can, and we'll have fun doing it.
Instructor:
Daniele da Padola, magister trivii
Class Max: Whatever fits in the room and can see the board.
Materials cost: None
Minimum age: Um…. I don't know.  If you're unsure if you're mature enough to study this, come talk to me.
Colours to Dye For
Natural dyes can produce rich and interesting colours. In a seemingly magical way, natural dyes can be made to be more colour and light fast, and colour manipulated, to create a rainbow of colours. This class will explore making dye vats, mordanting fibres with various mordants, after dyeing modifiers. We will only be working with protein fibres or animal fibres. Wool, silk, alpaca, yak etc all fall into this category.
This class will include the use of plant matter (dried or fresh), mordanting chemicals, and animal fibres. Each participant will need a pair of rubber gloves. Please wear play/work clothes and shoes (not sandals).
Participants are welcome to bring their own wool yarn or fibres to the class for sampling. This class is not set up to dye large pieces of fabric, but small samples of wool fabric 2 in x 2 in (5 cm x 5 cm) would be acceptable. Some yarn will be available for samples.
4 -6 dyes will be explored.   10 yard skeins of wool yarn would be useful for sampling, with  at least 3 skein for each pot, so different mordants and after dips can be used.   Extra fibre and skeins can be put in the exhaust dye vats.
Due to the hot liquids, process and chemicals, class is limited to ages 14 and older.
Instructor- Odette de Saint Remy
Class length – 3-4 hours
Class max – 5
Cost – $15
Spinning – Scottish dealgan
Imagine you live on an island with many sheep, but little wood. What will you use for a spindle? Come learn drop spinning with a Scottish dealgan, used in the Hebrides. This class will contain some historical information, some demonstration, and a great deal of playing with spindles. If you wanted to take the "Spin Like You're Scottish" class at Pennsic this year and were not able, now is your chance to try it out.
Kits containing a handmade dealgan and fibre for spinning will be available for $15. Buying a kit is not necessary for attendance, but this type of spindle is fascinating to work with.
Instructor – Amelye
Class length – 2 hours
Class Max – 10 kits will be available but others are welcome to attend
Cost – $15
Chain Mail – Beginners
Imagine a shirt made of thousands of tiny metal rings, all linked together to form a cloth impenetrable by sword. Why was chainmail the ultimate armour for warriors for over a thousand years? Chain mail is so versatile it is still in use today. You can see it on divers in shark-infested waters and on the hands of your local butcher. While you learn to knit your own bracelet that you get to take home we'll discuss the historical background of this wonderful armour. Please bring two pairs of pliers.
Instructor – Jerry
Class length – 1 hr
Class Max – 10
Cost – $2
Chainmail – Beyond the Basics
Beyond the basics: mail is the most versatile, flexible armour ever developed. Able to be shaped to every part of the human form mail can also be the basis for wonderful jewelry. In this class you will learn how to make the King Chain, French Rope, and Foxtail patterns. A basic understanding of chain mail is required. Bring two pairs of pliers. In addition to more complex patterns with standard rings this session will explore the use of smaller rings and precious metal rings in decorative patterns and jewelry. Bring two pairs of pliers.
Instructor – Jerry
Class length – 2 hrs
Class Max – 10
Cost $2
Introduction to Knitting!
Ever wonder what on earth people are doing with those sticks and string? Now's your chance to find out! This is NOT a period knitting class, but an introduction to knitting for beginners. You will learn to cast on, knit, and cast off. For the adventurous a couple of extra stitches may be tackled. Children with adequate fine motor control are welcomed. Knitters are encouraged to drop in with their works in progress and keep us company. If all goes well, you will walk away with a small dishcloth – or at least the beginnings of one.
Length: 2 hour drop-in class
Cost: Donations appreciated but not necessary.
Class Max: 8-10 participants.
Instructor: Aeschine Yates
Stitching Drop-In
Have embroidery questions, looking for sources, or just want to chat with others while stitching? Materials will be available for demonstrating techniques, along with examples of fibres/supplies/tools from my stash so you can see what to look for when ordering online. Some of my library will also be available to peruse for inspiration. This is being run jointly with the Introduction to Knitting, so participants can go between the two. All ages are welcome.
Instructor – Medb ingen Dungaile
Cost – Donations appreciated but not necessary
Class length – 2 hrs
A Simple Smokkr (Apron-Dress)
Based on the Hedeby fragments, here's an apron-dress construction that uses minimal fabric. Only 2 measurements, 1 cut, and 3 seams!
Good for beginners looking for simple pattern-making to advanced costumers interested in reconstruction and experimental archaeology.
(If students wish to cut out their own pattern on site they should bring fabric, scissors, and measuring tape, needle & thread and pins if desired. I can be contacted via email before the event to calculate fabric width/length required.)
Instructor – Emer
Class length – 1 hr
Cost –
Class Max
How to Read a Poem: intro to poetics
What makes a poem Poetry? In this introduction class we'll discuss scansion, meter, rhyme, and other building blocks of poetry. For students new to reading poetry or writers looking for a solid foundation to built on.
Instructor – Emer
Class length – 1 hr
How to Read a Poem Out Loud
With some understanding of scansion and a few vocal acting tips, you'll be able to read or perform poetry your audience will want to hear!
Instructor – Emer
Class length – 1 hr
Gore and Gusset Tunic Patterning Drop-In – 2 hours
Whether you're looking at making your first garb or a more experienced sewer looking to upgrade from the "basic t-runic" –or even looking for patterns for later-period shifts and smocks, this class is for you. We will cover the use of straight-cut patterning, gores, and gussets to create a variety of styles from the Roman era all the way through the Renaissance. Come with an idea of what period you're interested in and some fabric you don't mind ripping (3-5 metres, depending on style) and go away with not just a pattern, but advice to help you learn to cut future tunics without a pattern and instructions on sewing and finishing. Works in progress are welcome!
Instructor – Nicolaa
Class length – 2 hrs
Processing Wool; hand cards, flick cards, combs, hackles
This class will explore different ways to process wool and other similar fibres, using hand carders, wool combs, flick carders and wool hackles. With these tools, we can process long and short fibres to their best advantages, create fibre suitable for different spinning styles, blend fibres, blend colours and shhhh, create lovely, although not quite period, colour gradiations.
We will make sliver, rolags, batts, wosted style fibre rolls, colour blends, opened locks and more if we have time.   There will be a few tools available for trying out if you don't have any particular item.  We can also talk about how to process fibre if you don't have all the latest toys and tools
Please bring your carders, combs, flick carder etc, and a spindle or spinning wheel if you have them.
Instructor – Odette
Class length – 1 hr
Cost – donation
children under 14 must be accompanied by and adult.
Painted Floor Cloth
NB: This is a discussion rather than a hands on class.
While painted floor cloths are post-period, they add greatly to a period look in one's camp. Come join the conversation about the how to of it all.
Instructor – Lucia de Moranza
Class length – 1 hr
Norse Kiln Bead Making
Learn how to make glad beads using a charcoal kiln. It's not like using a torch,  come find out which you like better.
SAFETY – All natural fiber clothing and closed shoes only please
Instructor – Rufus of Stamford
Length – Drop in Saturday
Cost – Donation to cover Glass,  Coal,  Clay.
Naalbinding Round table
Anyone interested in naalbinding is welcome to participate in this round table.  Discussions about, help with starting, stitching and shaping, and anything to do with naalbinding.
facilitator – Sir Edward
no cost or limit
Save
Save
Save
Save
Save
Save
Save
Save
Save
Save
Save
Save
Save
Save
Save
Save
Save
Save
Save
Save
Save
Save
Save
Save
Save
Save
Save
Save
Save
Save
Save
Save
Save
Save
Save
Save
Save
Save
Save
Save
Save
Save
Save
Save
Save
Save
Save
Save
Save
Save
Save
Save
Save
Save
Save
Save
Save
Save
Save
Save
Save
Save
Save
Save
Save
Save
Save
Save
Save
Save
Save
Save
Save
Save
Save
Save
Save